GIANT FLIPBOOKS IN DOWNTOWN BROOKLYN
Beam Center brings mechanical urban storytelling to DUMBO, Brooklyn
FlipNYC: Two of the world's largest mechanical, solar-powered Flipbooks, built by youth in collaboration with architect Chee-Kit Lai, artist Ebony Bolt, and hundreds of community illustrators.
Interactive public art installation Summer 2019
FLIPBOOKS are kinetic sculptures that tell animated stories through 100s of individual images that are rotated mechanically. Like the classic children's toy, drawings are sequenced and create simple animations when activated. See them this Summer in DUMBO, Brooklyn!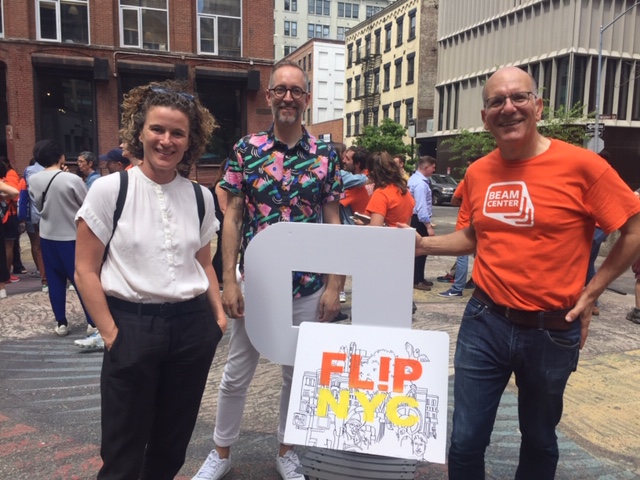 NYC BEAM FELLOWS
Beam Fellows (ages 15-18) worked hard in the Spring of 2019 creating and constructing FlipNYC. At our Inventgenuity Festival on May 5, 2019, Beam Fellows guided and led younger children and the public to create the Flipbook illustrations. On June 6, 2019, FlipNYC was unveiled in Dumbo, near the Manhattan Bridge Archway. YOU can view and play with the Flipbooks all summer long.
Building community through art and creativity, FlipNYC will bridge neighborhoods and offer a platform for connection among local school children, residents and visitors to DUMBO, Brooklyn.
FEATURED ARTIST EBONY BOLT
Flipbooks 2019 will feature artist

Ebony Bolt

who draws inspiration from the diversity of people around the city.
With your help, we can provide more public programming and involve more youth and community to engage with art and learn about making of FlipNYC.
You can donate directly to Beam Center to support our work.